MS Thesis Defense: Robert Wojcikiewicz
April 05 2022
Title: Structure and function of a Chihuahuan Desert Ecosystem
Time/Date: April 6th at 8:30 am MDT
Where: Zoom
Robert examines the relationship between vegetation structure and the response of associated ecological functions and biophysical processes in a shrub-dominated US Southwest landscape, specifically the Jornada Basin Long-Term Experimental Range. Flyer Link.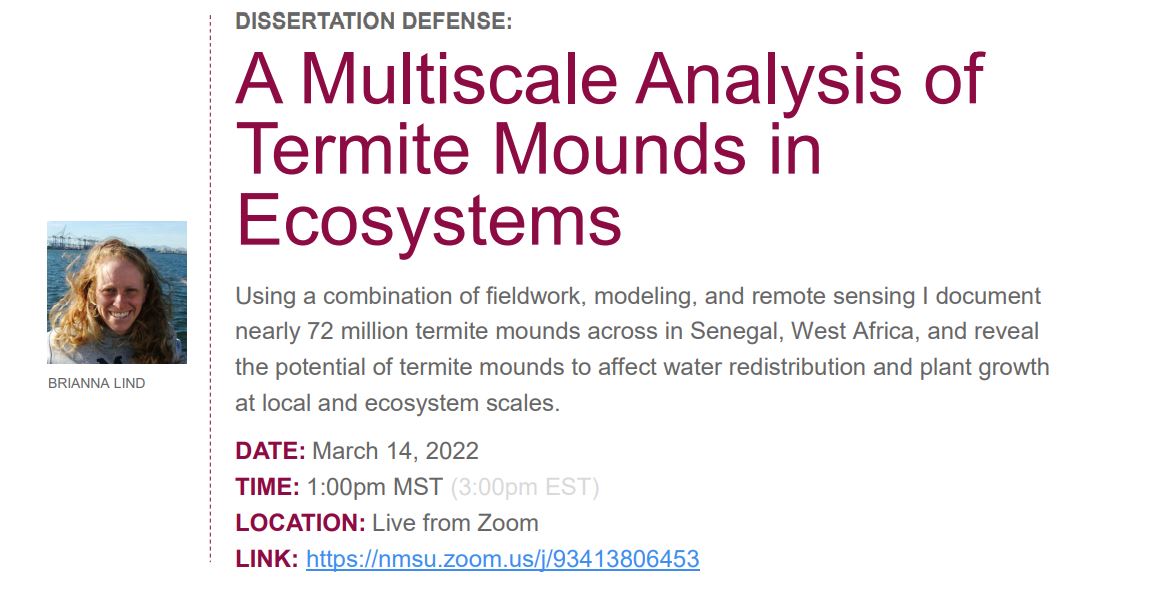 Dissertation Defense: Brianna Lind
March 02 2022
Title: A Multiscale Analysis of Termite Mounds in Ecosystems
Time/Date: March 14th at 1:00 pm MST
Where: Zoom
Brianna Lind has documented nearly 72 million termite mounds across Senegal, West Africa, and her research reveals the potential of termite mounds to affect water redistribution and plant growth at local and ecosystem scales. Flyer Link.
New review paper evaluates the role of drylands in future climate change mitigation plans
November 11 2021
Frontiers in Environmental Sciences has just published a new article for COP26. In this article, Niall Hanan and other colleagues reviewed the current literature and found there is a globally significant amount of carbon stored in drylands. Future management of dryland carbon will need to consider local ecological contexts that can enhance carbon in vegetation and in soil organic and inorganic carbon, while ensuring ecological integrity of dryland systems and provision of critical services to dryland populations.
New drylands specialty section open for submissions in

 

Frontiers in Environmental Science
August 06 2021
Frontiers in Environmental Sciences have launched a new specialty section "Drylands" with Niall Hanan, and several Savanna Lab members and colleagues from around the world serving on the Editorial Board. The Drylands section brings together interdisciplinary research focused on global drylands, including tropical and temperate, high latitude and high elevation deserts, savannas, grasslands and related arid, semi-arid and drought-seasonal environments.


New SavannaLab paper on "how to learn form machine learning"
August 06 2021
Use MachineLearning and find it challenging to derive the underlying functional relationships from the "black boxes"? Check out our new research led by Qiuyan Yu in Methods in Ecology and Evoloution "Study becomes insight: Ecological learning from machine learning" (article link).